ABDNHA home | Desert Plants & Wildflowers | Index | Cactaceae | Cylindropuntia ganderi
Gander's Cholla, Cylindropuntia ganderi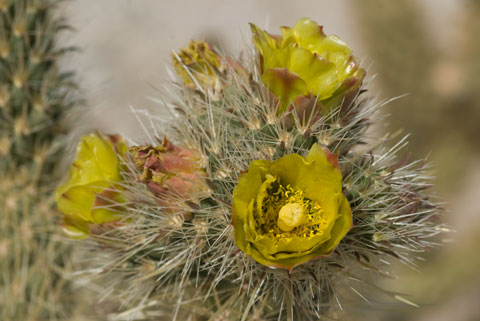 Gander's Cholla, Cylindropuntia ganderi
Cactaceae
If you encounter a Cylindropuntia whose segments seem to reach gracefully toward the sky, chances are it's a Gander's Cholla. Sometimes the upward segments seem almost balletic. On the other hand, as the time for flowering approaches, some plants put out spine-covered flowers and buds in clusters that you may think resembles a scepter, or perhaps a clenched fist.
Note that the spines and glochids on the segments are dense. This sets Gander's Cholla apart from Cane or Valley Cholla (Cylindropuntia californica) which it resembles except there are noticeably fewer spines and glochids.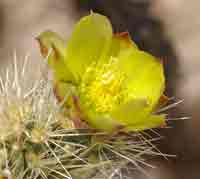 Although it shares honors with Cylindropuntia bigelovii as Anza-Borrego's most common cholla, C. ganderi wasn't recognized until 1995 and does not appear in many standard wildflower guides. Previously, it had been assumed to be a subspecies of the Buckhorn Cholla.
The plant is a shrub to 5 feet tall. Unlike C. bigelovii, the green segments are firmly attached and don't fall to the ground where people can step on them (or an occasional unlucky rodent can become tangled up in one). The segments are 1 to 2 inches in diameter, and can vary from 4 to 10 inches in length, which means it can be difficult for the average person, not a botanist, to tell one Cylindropuntia species from another.
Flowers are greenish yellow, often with reddish tips, and appear from March through May.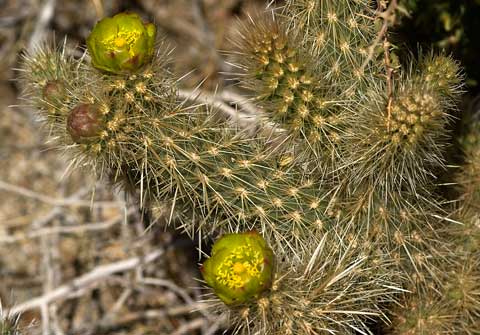 Gander's Cholla, Cylindropuntia ganderi
Cactaceae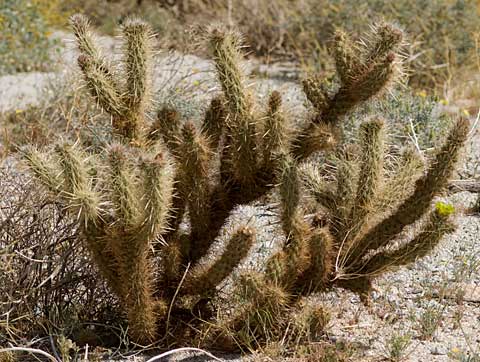 Gander's Cholla, Cylindropuntia ganderi
Cactaceae
Anza-Borrego Desert Natural History Association
P O BOX 310 ( 652 Palm Canyon Drive) Borrego Springs, CA 92004-0310
Office 760-767-3052 | Desert Store & Nature Center 760-767-3098 | FAX 760-767-3099