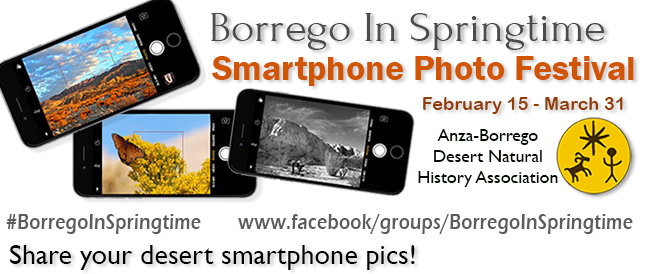 ---
What is it?

#BorregoInSpringtime is an online sharing celebration of the Anza-Borrego Desert in Springtime. It's an online photo festival, open to all, sponsored by ABDNHA. You take photos with your smartphone or tablet and you post them to the festival's facebook page, or to Twitter or Instagram. Let the sharing begin!

With Smartphone camera technology improving by leaps and bounds each year and with just about everyone using social media we kick off something new: an online photography event limited exclusively to Smartphones and tablets.


It's simple and easy to be a part of it, and fun for all, regardless of your skill level.
Android or Iphone or whatever else! You are all welcome here.

Just a few guidelines:



Post your photos to Twitter or Instagram using the hashtag #BorregoInSpringtime or to www.facebook.com/groups/BorregoInSpringtime.


All photos must be taken from a phone camera or tablet.


Photos may be touched up, edited, enhanced, cropped, special effects may be used, along with any photography add-on lenses, etc as long as long as all of it happens using apps within a smartphone or tablet.


Photos that are posted must be current, ideally no more than a day or two old, but you certainly have time to review your photos at home and edit them before you submit.


Please submit no more than 6 photos per day per person.


Suggested categories are to the right, but the goal is TO SHARE what you see. Don't feel limited by category.

This is not a contest, it is a ONLINE PHOTO FESTIVAL, a SHARING of images, totally unlimited, entirely on social media and entirely with smartphone cameras or tablets.

There are no prizes. Just being in Borrego in Springtime is prize enough! We will monitor photos as they are posted and select photos may be featured for special mention on Facebook or the ABDNHA website. We reserve the right to remove any photos that are considered to be inappropriate.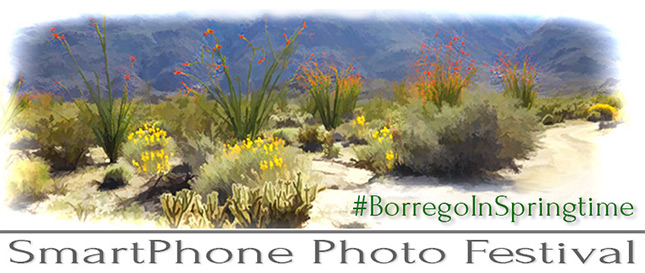 Borrego in Springtime!
It's Primetime in the desert.

It's Time
to GET OUT THERE!

It's time to bring your phone or tablet with you!

It's time for our first
Smartphone Photo Festival
SUGGESTED CATEGORIES

Desert Splendor - A wide open category, splendor is in your mind! Share it! This category includes wildflowers, always a Borrego favorite in springtime, and this is looking like a good year.


ABDNHA Botanical Garden Right behind ABDNHA, the ABDNHA Botanical garden is a great place to capture flowers, plants, butterflies, and birds, especially hummingbirds.


Black, White & Special Effects - With the right subjects, classic black and white can be impressive. Phone apps offer many other ways to tone your image for the right effect.


Night Photography - In the desert, around the campfire, or Borrego's dark night skies.


Sunrise - Sunset - Always a favorite of all photographers.


Borrego Life - Anything and everything in the town of Borrego Springs


Video & Panoramas