ABDNHA home | Desert Plants & Wildflowers | Index | Cactaceae | Cylindropuntia ramosissima
Diamond Cholla, Cylindropuntia ramosissima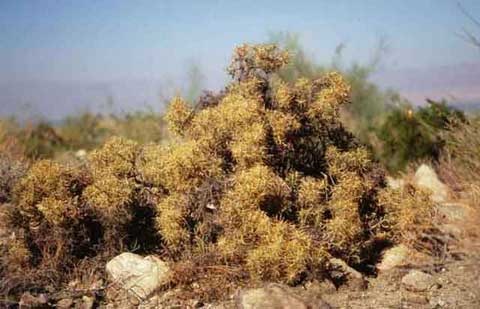 Diamond Cholla, Cylindropuntia ramosissima
Cylindropuntia ramosissima is not the only cholla with the common name Pencil Cactus or Pencil Cholla. It is, however, the only cactus with either of these common names growing in Anza-Borrego.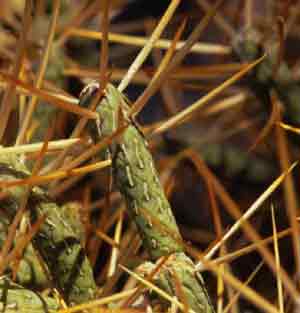 The photo at left shows the reason for the common name Diamond Cholla. If you look closely, the stems have diamond-shaped patterns around the base of the spines.
Finding Diamond Cholla in flower can be a challenge. The best strategy would seem to be to stake out an area where the plants grow. In early May, start visiting it regularly, perhaps as often as once a week, looking for signs of buds or new stem growth.
Diamond Cactus flowers are inconspicuous. They are about the size of a quarter. The coloring ranges from soft orange to a not very dark brown. If you see a Diamond Cactus flower, consider yourself lucky. According to Jaeger, "many botanists confess they have never seen one."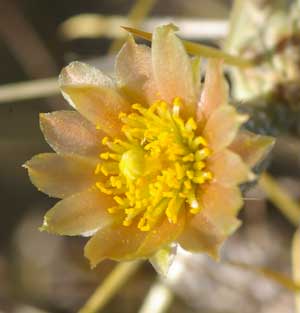 Don't overlook the fact that the Diamond Cactus is a spectacular sight even when there are no flowers, especially when its spines take on a golden color and catch the light of early morning or late afternoon.
C. ramosissima likes dry spots with plenty of rocks.
Look for it in the low desert elevations along Highway 78 north of Mescal Bajada, or north of Highway S-22 from Clark Dry Lake to Palo Verde Wash.
The best time for finding the late-blooming C. ramosissima in flower is in summer after the blooming of other cacti has ceased for the year.
Anza-Borrego Desert Natural History Association
P O BOX 310 ( 652 Palm Canyon Drive) Borrego Springs, CA 92004-0310
Office 760-767-3052 | Desert Store & Nature Center 760-767-3098 | FAX 760-767-3099