---

---
Feb. 7, Fri., 9 a.m. – 1 p.m.
4WD Tour: Water in the Desert
Guide: Ocotillo Wells Park Naturalist
Water is the ultimate commodity in the desert. Ride along where water runs as we visit the site of flashfloods, springs, salt-seeps, mud-holes, and the wells of both coyote and man. Meet at OW Discovery Center off Hwy 78. Call to reserve, 760-767-3098.
---
Feb. 7, Fri., 9 a.m. – 11:00 a.m.
ABDNHA Borrego Valley Bike Ride
Leader: Julie Taylor, Cyclist & ABDNHA Volunteer
Have some fun, get some exercise, and see the desert from two wheels on our new weekly bike ride. Each ride route will be decided at start time, depending on the ability of the group, with an average ride of 10-to-12 miles. Group meets at Bike Borrego! located on the south side of The Mall, facing the post office. No charge, no pre-registration required, just show up and ride. This activity repeats weekly.
---
Apr. 1, Tues., 9 a.m. - 11:30 a.m.
Easy Hike: THIS ACTIVITY IS FULL
Participants: Prince William & Kate Middleton
We are honored to welcome Prince William and Kate Middleton to Anza-Borrego, as they take time during their California vacation to enjoy a short desert hike with ABDNHA. This unique event offers an exceptionally rare opportunity to be a part of a very small group that will experience Anza-Borrego with both the Duke and Duchess of Cambridge. This will be an easy hike, less than 2 miles. For security reasons the hike location cannot be announced until the time of departure. Maximum of 22 participants. Meet at the ABDNHA Library at 9 a.m. and then drive as a group for security screening and to await the Royal helicopter. This activity is expected to fill quickly. Bring water, sun hat, and good hiking shoes. No charge; call to reserve.
Our cover is blown! The news is out!
See San Diego Union Trib article
| | |
| --- | --- |
| | |
| | Our cover was blown before we could release this photo of the royal couple out for a hike in our local desert. Note that the birdwatcher in the background is actually security! |
---
Apr. 3, Thur., 8 a.m. – 10 a.m.
Beginning Bird Walk: Intro to Birding
See Feb. 13 description. Activity repeats weekly.
---
Apr. 4, Fri., 9 a.m. – 2 p.m.
4WD Tour: Exploring Truckhaven
Guide: Ocotillo Wells State Park Naturalist
See Feb. 24 description.
---
Apr. 5, Sat., 8:30 a.m. - 1:30 p.m.
Hike: Plum Canyon
Leaders: Naturalists Mike & Jan Bigelow
A delightful 4-mile hike up a gradual, meandering trail and a search for spring wildflowers. Enjoy magnificent views of Shelter Valley, and learn about the mystery of this canyon, which lacks a single plum tree, but sports many apricots. High clearance recommended. Bring water, lunch, hat, sturdy shoes. Meet at the Nature Center. No charge, call to reserve.
---
Apr. 7, Mon., 8 a.m. – 1:30 p.m.
Hike: Bittercreek—Pacific Crest Trail Shuttle
Leader: Robin Halford, Hiking Book Author
One-way strenuous 6.8 mile hike. Walk up Bitter Creek, a wonderful area for spring blooms. Enjoy views of Volcan Mt from the ridge, then walk down the PCT to Scissors Crossing. Uneven terrain, some bouldering, and several steep sections. From Scissors Crossing drive north on S2 for .3 mile to a large parking area on right. We will carpool from here to the starting point. 2WD with high clearance is OK; please be willing to carpool from one end of the hike to the other end. Sturdy shoes, water, hat, sunscreen. Call to reserve. Limit: 10 hikers.
---
Apr. 9, Wed., 8 a.m. – 2:00 p.m.
Hike: Nolina Canyon
Leader: ABDNHA Volunteer Adam Armold
4 Miles roundtrip. Moderately strenuous. Nolina Canyon is an extension of Nolina Wash, which is located in the western section of Pinyon Mountain Road. The canyon is garnished with prime examples of desert vegetation as it surmounts many dry waterfalls. Bring lunch, extra water, high clearance 4WD required. Meet at ABDNHA. Maximum 12 people. Call 760-767-3098 to reserve.
---
April 11, Fri., 7:30 p.m. – 8:30 p.m.
ABDNHA Desert Lecture Series
Color and Light in Nature – Lecture & Book Signing


ABDNHA Desert Lecture Series - Borrego Performing Arts Center
Speaker: David K. Lynch, Ph. D
What is a rainbow? Why are there always two of them? Can mirages be photographed? Why do stars twinkle? How many ice crystal haloes are there? Is it really darkest just before dawn? Why is the sky blue? Why is the setting sun red and flattened? What color is water and why does it appear so many different colors? Why does the full moon look so big on the horizon? What's the best way to see an aurora borealis? What is the green flash? Why are icebergs blue? Why can clouds produce such strong colors? What is a glory? Why is the dark side of the moon sometimes visible? What are those light beams that seem to radiate from the setting sun?

These and dozens of other questions about naturally occurring optical effects are explained with pictures and diagrams, along with tips on how to see and photograph them.

---
April 12, Sat., 10:00 a.m. – 11:00 a.m.
Asteroid Impacts on Earth
Speaker: David K. Lynch, Ph. D


What are the chances and what could we do about it?
Asteroids and meteoroids strike the Earth everyday but most are too small to survive passage through the atmosphere. Only those larger than a few tens of meters across can reach the ground and these are rare. The last one was in 1908 near Tunguska, Russia when an asteroid or comet nucleus caused a10 megaton airburst that flattened trees in an area larger than Washington D.C. About 60 million years ago an object estimated to be 6 miles across struck the Yucatan area of Mexico near Chicxulub. The billion megaton explosion created a 110 mile wide crater and is thought to have been the cause of the Cretaceous-Tertiary Mass Extinction that killed most higher life forms including the dinosaurs.
What are the chances of getting hit by a civilization-disrupting asteroid? How much warning time would there be? What is the status of our asteroid surveys? Who is in charge of protecting the Earth from asteroids? Come to the talk and find out!
---
April 12, Sat., 6:30 p.m. – 8:00 p.m.
The San Andreas Fault - Lecture
Speaker: David K. Lynch, Ph. D


What is the San Andreas Fault? Where is it? How can I see? What does it do to the landscape? Will an earthquake make California fall into the ocean? What risks does it pose? Should I worry about it? What towns lie on the fault? When is the "big one" coming? These any many other questions about the infamous San Andreas Fault will be discussed in an all color presentation. Topics covered include plate tectonics, continental drift, fault activity, the origin of volcanoes, the geologic future of California and much more. Space limited, at the Nature Center Library. Call Nature Center to reserve. NM $11; M $8; V $7.
---
April., 13, Sun., 9:00 a.m. - 2:00 p.m.
Hike: Kwaaymii Point Loop
Leader: Joan Malone
A moderate 7.3 mile loop hike with a 800 foot elevation change through chaparral in the Laguna Mountain Area. The hike begins on a portion of the PCT that leads to the Pioneer Mail Picnic Area, where we will join a trail skirting Pine Mountain down to Indian Creek on the return. Meet at Kwaaymii Point Parking Area at mile marker 30.3 on Sunrise Highway. Bring water, lunch, jacket; wear good hiking shoes. Limited to 15 people. No charge, call the Nature Center to reserve.

---
Apr. 13, Sun., 8:30 a.m. – 3:00 p.m.
The San Andreas Fault – Field Trip
Salton Sea Geothermal Field and the Salton Buttes
Leader: David K. Lynch, Ph. D
See related activity on April 12.
We will spend all day (approx. 100 miles) visiting a number of geological features related to the San Andreas Fault. This will include the Salton Buttes volcanoes, geothermal mud pots and mud volcanoes, and finally Salt Creek where we will be able to see and actually stand on the San Andreas Fault. Along the way will we will see breathtaking views of the Salton Sea and migratory birds. This tour will involve leisurely drives - some on well graded dirt roads - and light walking. No 4WD or serious hiking is required. Meet at the Nature center. David Lynch (PhD Astronomy) is an infrared astronomer and remote sensing specialist at the Aerospace Corporation. His major fields of research include the infrared solar system astronomy, galactic physics, atmospheric optics, and image analysis. Dave also does geological research and currently is with the USGS. He has published over 150 scientific papers and 10 books. Call the Nature Center to reserve. His latest book is "Field Guide to the San Andreas Fault," is available at the Nature Center. NM $ 35; M $25; V $22
---
Apr. 14, Mon., 8:00 a.m. – 1:00 p.m
Hike: Palo Verde – Smoke Tree Loop – Moly Mine
Leaders: Fred Melgert and Carla Hoegen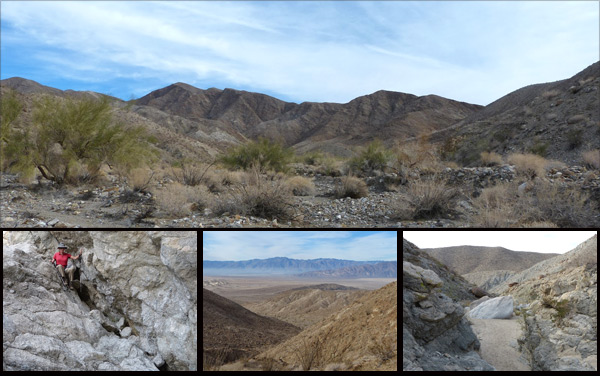 If you enjoy a good workout when you hike, and some adventure, then this hike is for you. This is a 6.2 mile loop - 4 or more hours of hiking - in rugged terrain, with loose rocks, and some bouldering, and an elevation gain of approximately 1800 feet. The hike requires good physical condition. The hike starts out in an easy sandy wash but gets more rocky further along. The trail passes the Moly mine and then ends close to the natural rock tanks. For the return trip we plot our course with GPS. Limited to 12 people. Good boots and a hiking pole are essential, an ample supply of water, and snacks. Call Nature Center to reserve. No charge.
---
Apr. 20, Sun., 8 a.m. – 2 p.m.
Hike: Redman Mine
Leaders: Sanjiv Nanda and Paul Larson
Fabulous 3.5-mile round-trip hike to a 100-year-old quartz mine (c. 1905). Well-maintained trail climbs steadily on the south face of Granite Mountain with fabulous views to the east and south. Not so common hedgehog cactus is pervasive. Moderately strenuous with 1000 feet of elevation gain. 4WD/high clearance preferred. Meet at the Nature Center from where we will carpool. Call us to reserve, 760-767-3098.
---
May 2, Fri., 7 p.m. – 8 p.m.
Film: "First People: Kumeyaay"
First shown at the 2014 Borrego Film Festival, ABDNHA is pleased to make this new film available with a free showing. The film is a fascinating and extensive history of the first people to live in Southern California, collectively known as the Kumeyaay Nation. As elders pass on, physical landscapes are transformed, cultural resources are lost, and knowledge about the past also vanishes. "First People: Kumeyaay" captures much of this knowledge in an effort to preserve it for future generations. At the ABDNHA Library. No charge. Space limited, call our Nature Center to reserve, 760-767-3098.
---
May 14, Wed., 7 p.m. – 9 p.m.
Sunset and Moonrise at Font's Point
Leader: Mike McElhatton, ABDNHA Education Coordinator
An ABDNHA end-of-season tradition! Bring a comfortable chair, your favorite beverage, and a snack to Font's Point to watch the sun go down and the moon come up. This year the full moon rises just ten minutes after the sun goes down. No charge. Call to reserve. 4WD is advised; we will carpool from the Nature Center.
---
May 24, Sat., 10 a.m.
Borrego Rock and Gem Club B.R.A.G Meeting
Monthly meeting of the local rock club, for information and planning of educational programs, trips, and activities. New members are always welcome! Meets at the Nature Center.